So, I skipped a week. And this week has been busy....not exactly the most interesting of topics, but both important for building our own home.
1. Fireplaces
. Well, as with most things, I'm first interested in something by an
article by Mother Earth News
about improving the efficiency of wood-burning stoves. Dan and I are planning on having a very nice, large masonry fireplace in our home one day, but we both know that they're not very efficient. The ceramic, stand alone fireplaces are VERY efficient, and although they're pretty, there is a certain degree of heft and pomp that you lose with them. To be honest, since we're placing it as a focal piece of our living room, let alone our entire downstairs, we need something with some presence.
2. Fireplace inserts.
Enter the
inserts
. They have the functionality of the stand-alone wood-burning stoves and can be slid into the impressive masonry hearth. Unfortunately, few of these have the efficiency of the Hearthstone stoves--they're usually behind by around 10% or more, which adds up to 2-3 winters of FREE heating over the lifetime of the stove.
3. The Compromise.
Do a large masonry facade with a Hearthstone freestanding stove slid in. Dan and I want to do brick, so something like above would work. It's not a Hearthstone stove, but there are some that are similar. Additionally, I'd want something like the elaborate side of
this design,
so one side would be the stove that faces out living room and the other would be a very convenient wood storage area. We're looking at the
Homestead design of the Hearthstone stove
(not that color, grey and matte black would be our choice). 1800 square feet of heating, over 80% efficient, and slimmer to slide into a brick surround a little more flush.
4. Septic Systems.
Ok, not as exciting or picturesque, but you gotta deal with it! Dan and I have already discussed separate grey water treatment systems for the showers, sinks, and washers. The water at the end of the treatment system would not be potable, but could be cleanly diverted as irrigation water, pool water, and flushing water for toilets. All the "black water" would have a standard septic system, however--messing around with that one! However, if you subtract the dishwasher, clothes washer, and showers, that's a TON of a house's water uses--all recycled!
Here's a great website for grey water management
--tons of data and information!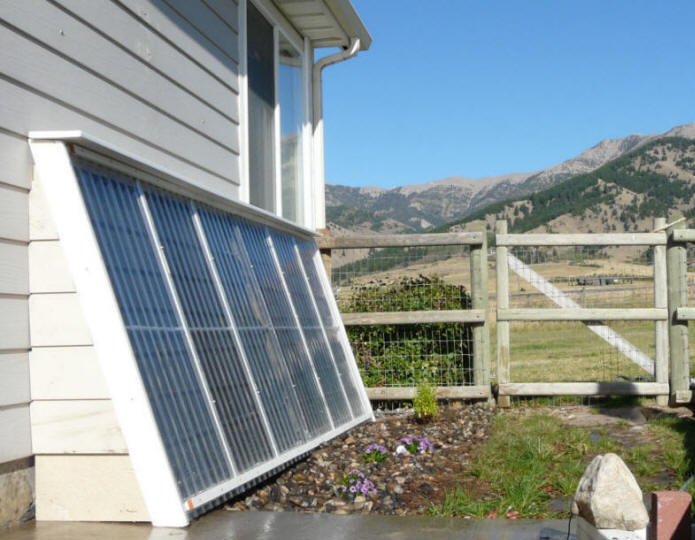 5. Solar Water Heating.
Build-it-solar has an AWESOME website on an amazing build-it-yourself solar hot water system--all for $1000!
To be honest, their system is relatively small, but could be easily doubled or tripled for between an extra $500-$1000, for a total cost of about $2k--that's easily ten THOUSAND dollars less than a comparable pre-fab unit. And for those of you who are a little skeptical, the unit is set up in the mountains of Montana (I believe) and is made out of commonly available materials. Dan and I have spent hours (his patience is nearly inexhaustable) discussing these units, and this one seems the most feasible.